It's finally happening… You're getting married! You've already taken the first step in the journey to your big day, and a lot will happen between now and then. Whether you're hiring someone to take care of  some or all of the details for you or you're doing it all yourself, there are so many choices to be made. From choosing a venue to the guest list to making sure your picky great-aunt is kept happy, the list can seem endless. Today, we'll share with you some ideas for unique wedding favour ideas. We're including ready-made options as well as more hands-on projects for the crafty people out there.
Custom favours are a great way to share a bit of your personality with guests. Many artisans are happy to customize their products for your big day. You can often choose fonts, colours, and sizes, so don't be afraid to ask your favourite artisan if they can do some custom work for you.
Table Settings
Who said favours are just for guests to take home? Get twice the value by using them as place cards for the tables. Customize your favour with the guest's name. You could even personalize the thank you!
Centerpieces
Choose favours that can be set up as attractive centerpieces for the table. That way, they will be out of the way while your guests enjoy their meal and there is less for you to clean up later! Just make sure guests know they should take one before leaving at the end of the night.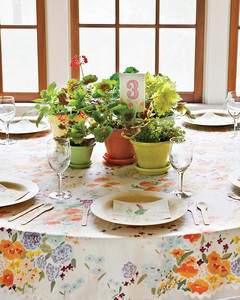 Click here for the tutorial from Martha Stewart. These would be fantastic with bee-friendly plants. Your guests can support local bee populations AND enjoy the lovely blooms long after your wedding.
Something Useful
Think about weddings you've been to and what you've enjoyed receiving (if they did favours). Consumables tend to go over well as the guests can enjoy them without cluttering up their house. Here are some custom labelled lip balms I made for a wedding:
I think they turned out fantastic!
Just because you are giving something useful doesn't mean it has to be run-of-the mill. There are many options out there to come up with a creative twist that can still be useful!
DIY
What better way to show your guests just how much you appreciate them than by making your own favours? Depending on your idea, this approach is not for the faint of heart; however, you can make it easier by enlisting some help. Organize a crafting session with friends or those who may be interested from the wedding party. This is a great opportunity to enjoy friends and family while getting some work done! Take it one step further and organize a potluck or order in pizza and make an afternoon or evening of it.
These tips can help make your crafting session run smoother:
Make sure you know what you want the end result to look like. Even better, have some samples for your helpers to reference while they work
Prepare as much as you can in advance. Make sure you have enough materials
It helps if each person picks only one task (for example, cutting ribbon or tags) and moves on to another only once they are finished. It's more efficient, and the teamwork is part of the fun!
If you're interested in making something yourself but aren't quite sure where to start, look for local places that offer workshops for something you'd like to make for a favour. Contact the organizer to see if they will run a private workshop for your group. They should be able to assist you in making sure you have enough materials and the skills to complete your project. Depending how many favours you need and how many people you can recruit to help, you may not be able to complete everything during the workshop itself, so be sure to find out what support the organizer can give you post-workshop to ensure everything gets done!
For more inspiration, check out our wedding Pinterest board. We're also happy to discuss custom wedding favours or assist you in making your own. Contact us today for more information.
All the best in planning your wedding!